What Does Building a Brighter Future Actually Look Like?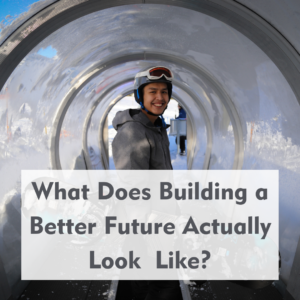 In 2022, we very much hope to build a brighter future where every person has what they need to thrive. But what does that actually look like? What are we fighting for? What will we use your funds to do?
Here is our vision for what that will look like:
No young person in BC ages out of foster care without the support and a plan to help them transition into independence
Food security for all
Affordable housing in Whistler and the Sea to Sky Community
Low-barrier, accessible, and trauma-informed mental health supports
Workplaces are supportive, empathetic environments where every employee can thrive and create more abundant and better businesses
Every person can experience the beauty and bounty of the land, regardless of social or economic status
Systemic changes to ensure that every person receives the support and opportunity they need to find and walk their own paths
Every person has access to life skills education so they can meet the challenges of independence
We are still accepting gifts until the end of the year as we try to raise $100,000. And every donation of $10 or more will be entered into a draw to win a $250 evo Whistler Gift Card (valid at Whistler stores including evo, evo Backcountry, evo Village Sports and evo Blackcomb)! Donate now: https://zeroceiling.org/building-a-brighter-future/
Invest in us and invest in this vision by donating today.