Two Fun Community Events Happening in Whistler This Month (& a Thank You for One That Happened in November)
Here are two awesome events our partners are hosting this week. Show them (and us) some local support and show up:
And a big thank you to 
The Adventure Group
 for raising $3,482 for us last month with their Vallea Lumina local's deal!
The funds raised at these events will help us towards our goal of raising $100,000 this by the end of the year. If you'd like to make a direct donation, all new gifts will be matched up to $20,000. Donate at this link:
https://zeroceiling.org/building-a-brighter-future/
Escape! Whistler Local's Deal on Until December 16th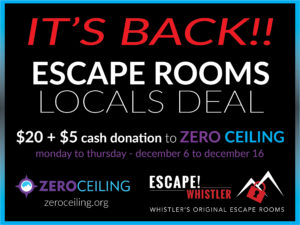 Looking for a fun night with your family and friends this week? Our friends at Escape! Whistler are holding an amazing local's deal with part of the proceeds going to Zero Ceiling! Book now by calling 604-962-1117 and ask for the local's deal for tonight, tomorrow, or Thursday night. This gets you $10 off the regular price and includes a $5 donation to Zero Ceiling!
Thank you Escape! Whistler for helping us build a brighter future by doing what you do best: making fun, creative, family-friendly activities accessible for our community.
RMU Karma Keg
Join RMU for a Karma Keg on December 23rd. They support so many incredible locals through their Karma Kegs. For them, raising funds to build a brighter future is simple: they do what they do best. They make space for us to gather, serve us yummy drinks, and provide an evening of music and good times with good people.
Thank you RMU for hosting this fundraiser and investing in a brighter future for our community. We'll see you at the keg!
Thank You to The Adventure Group for Raising $3,482 for ZC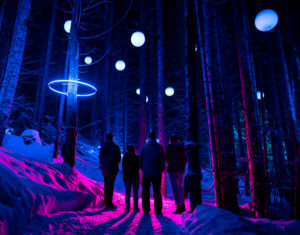 The Adventure Group (TAG) have been our partners and champions for many years. In November, they raised $3,482 for Zero Ceiling through ticket sales for Vallea Lumina, the stunning night-time light show on the trails of Cougar Mountain! That is literally helping us build a brighter future!
Thank you so much TAG for everything you do and have done in supporting our mission in the way that you do best: through incredible outdoor adventures that show off the beauty and wonder of our landscape.