Over the next few weeks, we will be digging deep into some of the most important, transformative aspects of our programs. First off, let's talk about outdoor recreation — a crucial method of helping participants overcome barriers and become self-sufficient.
When you grew up in BC, like me, people assume you were born with a canoe paddle in one hand and a ski pole in the other. The opportunities to be outside and commune with nature are, literally, right on our doorstep.
I still remember my first experiences on Whistler Blackcomb. I was in elementary school (maybe the third grade?) and my class took part in a season of Snow School. As a coordinationally challenged introvert, I hated learning to ski. I was pretty much on the verge of the elementary-school-equivalent of a nervous breakdown the entire time.
A few years later, we went again. I think I was so scared of looking silly that I told them I'd had no experience before and ended up being one of a handful of kids in the beginner's lessons learning the difference between French fries and pizza all over again.
The next time, both my parents and I learned our lesson, and I opted out of it altogether.
However, I'd be lying if I said any of those lessons were a waste of time. Despite my natural distaste for the ordeal, I still remember the feelings of accomplishment when I learned how to pizza my way to a standstill. The thrill of whooshing down the (bunny) hill and feeling in total control of my direction and confident I knew how to get there. The badassery of face-planting in the powder and getting up to try again. The fulfillment of being exhausted after a long day of physical exertion. The beauty of being so close to the sky, seeing the clouds up close, with untouched nature beside me. And the camaraderie of having survived those few lessons with my friends and peers.
The benefits of outdoor recreation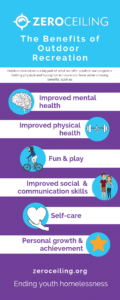 My experiences are not unique. Studies have shown that children and youth who engage in unstructured (i.e. imaginative, or adventure-based) play and learning in nature can gain a lot more than fun memories. Compared to other activities, such as indoor or online activities, outdoor recreation can result in the following benefits:
Improved mental health
Stress reduction, which can be important for those who suffer from anxiety or other mental health concerns
Ability to focus for longer amounts of time
Relaxation from being surrounded by nature rather than modern life
Focus on positivity and compassion
Developing your intuition and saying "no" when something doesn't feel right
Improved physical health
Increased physical strength and ability
Inspiration to keep going beyond the initial challenge
Learning a hobby or technical skill that could last beyond the activity itself
Fun and play
Increased creativity and imagination (which can lead to exercising empathy and problem solving)
Discovering new and exciting activities and environments
Improved social and communication skills
Interacting with others as a team, a follower, or a leader
Social opportunities to engage with peers in a novel way
Opportunities to be mentored or to engage with a guide or other adult
Self-care
Space for reflection and consideration
Increased confidence and self worth
A chance to breathe in fresh air
Feel-good hormones like endorphins can be released from physical activity
Personal growth and achievement
A sense of independence and autonomy
Expanding comfort zones
Ability to assess risks and exercise judgement in decision-making
Increased ability to improvise or make quick decisions
Through our outdoor recreation programming, we have seen first hand how our participants benefit from being outside and engaging in fun adventures. Which is why it is the bedrock on which Zero Ceiling was founded.
If you want to learn more about how being outside can improve your emotional well-being, read: "The Nature Cure: INSIDE THE HEALTH REVOLUTION THAT COULD CHANGE YOUR LIFE"
Adventure-based learning with Zero Ceiling
Just as they have been doing for thousands of years for the Squamish Nation and Líl'wat Nation who inhabited this area since time immemorial, the mountains provide us the space for learning, living, loving, and surviving.
Zero Ceiling's founder, Chris Winter, understood the potential for adventure and nature to empower and inspire young people to reach their potential. In 1997, he began bringing groups of marginalized youth from Vancouver's Downtown East Side to Whistler for a day of free snowboarding lessons. Soon after, Zero Ceiling created a supportive employment and housing program for youth experiencing homelessness or unstable housing, which is now Work 2 Live.
The Adventure Sessions and certain aspects of Work 2 Live continue to be rooted in outdoor recreation. During these experiences, we encourage participants to push their comfort zones. We give them space and permission to experiment and feel what they're feeling—frustration, anxiety, exhilaration, fear, introspection—and the invitation to keep moving forward. To see what's around the next corner. Or, to set their own boundaries and know when to back off and safeguard themselves for another day.
In the Adventure Sessions, we carry on Chris Winter's initial vision, bringing teens and young adults to Whistler for a day of no-strings-attached, free snowboarding, mountain biking, or tree-and-ropes climbing. The groups who visit us often have no or limited access to healthy interactions with nature, and for many it is their first chance to experience everything that I took for granted as a third-grader.
The Work 2 Live crew go on weekly Ride Days—days of adventure-based programming, where we take them on various outdoor activities throughout the Sea to Sky Corridor. Every week. Since Work 2 Live is more intensive in scope than the Adventure Sessions, these days are highly important for building on each crew member's personal growth. Some days are simply an opportunity to relax and enjoy a physical challenge, just as it would be for anyone else who enjoys a hike or snowboarding on their weekends. For others, it is a chance to turn inward, reflect, and connect with something larger than themselves.
How we do it
With these two programs, we have been able to connect thousands of young people with a new experience they can use to further their personal goals. And, we've helped create some lifelong memories along the way.
We have been able to run these programs for nearly 22 years thanks to our world-class partners, who provide:
The equipment—participants receive free rentals and gear from Whistler Blackcomb or The Adventure Group
The experience—passes, entry, and guided sessions are provided by Whistler Blackcomb or The Adventure Group
The guides—expert guides, who can turn into mentors and cheerleaders, are employees of Whistler Blackcomb or The Adventure Group, as well as Zero Ceiling volunteers
We have also been fortunate to receive additional support for our outdoor recreational programming from both the Ted Rogers Community Grant and the Telus Community Investment fund's Vancouver Community Board.
Healthy hearts & healthy minds
The people we work with sometimes tell us they've felt powerless and alone. Outdoor recreation is a way we can help them take back some of that power, that is completely self-directed. It is a way we can help connect them to people and places where they can find community and family. Our inspiration is the beautiful nature surrounding us, and the youth who get to play in it for the first time.
Have you experienced the transformational power of nature? Let us know in the comments below.