If anyone understands the power of sport and the value of community, Hockey Helps the Homeless (HHTH) are the masters. This incredible volunteer-driven organization raises funds across Canada to fight homelessness in our communities. Teams of amateur players, NHLers, and former Olympians compete in tournaments across the nation with one goal in mind: to give every Canadian a fighting chance.
In 2018, Hockey Helps the Homeless Vancouver raised $460,000 (a national record) to distribute to local charities fighting homelessness. $10,000 of that went to Zero Ceiling to support the crew in Work 2 Live, our Whistler-based, 12-month supportive housing program for youth experiencing homelessness or precarious housing. To learn more about Work 2 Live, click here.
We have said it so much lately, but we just can't believe how many open hearts and minds find us and choose to support us. Keep reading to hear more about this amazing organization and what their help means to us and donate to them today.
$5,000 for Transit Passes…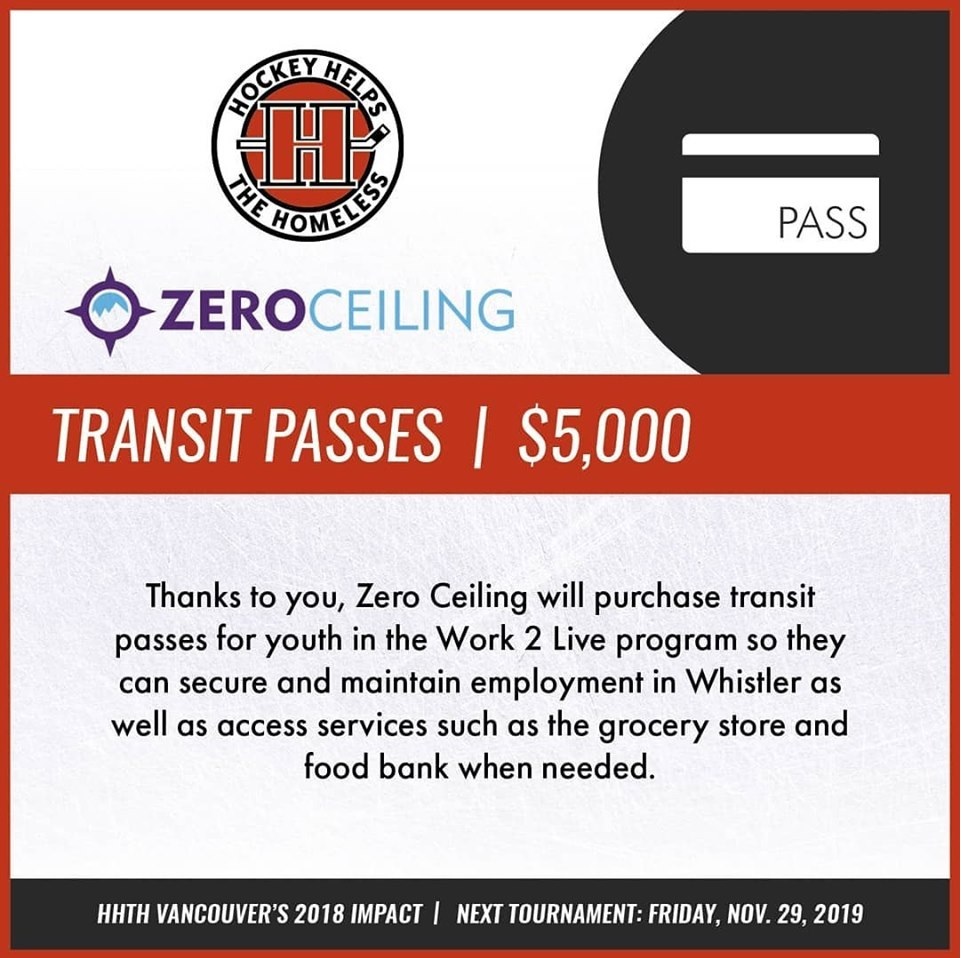 Half of the total amount donated bought the Work 2 Live crew monthly transit passes while they were in the program.
The whole purpose of Work 2 Live is to provide participants with the tools to build a safe and fulfilling life (supportive housing, employment, life skills, wrap-around supports, etc.) This can be challenging in a place like Whistler. Here, winter snow dumps and summer temps in the thirties can make biking or walking dangerous and impractical. Work, home, and recreation might be kilometers apart, separated by a busy highway. And owning a car isn't always environmentally, economically, or practically feasible — especially for young people who are new to Whistler.
Thanks to HHTH, the crew has been able to commute, explore, and stay connected with Zero Ceiling staff. They have become fully embedded in the Whistler community. And of course, they were able to travel safely and responsibly.
…and $5,000 for Individualized Support
Individualized support is something we endeavour to give each crew member. This can encompass a variety of activities, but it really boils down to giving each person in the program whatever they need in order to meet their goals and become healthy, self-reliant adults.
So, if that means helping them connect with a counsellor, a dentist, a physiotherapist, legal aid, a yoga class, or a photography course, we will be there with bells on.
Thank you Hockey Helps the Homeless (Vancouver)!
HHTH have been donating to our programs since 2017. In 1997, Zero Ceiling founder Chris Winter had a vision of changing the lives of people experiencing homelessness through sport and community. We are so grateful that HHTH shares these values!
Work 2 Live crew members will often not have a strong support network or reliable access to these kinds of individualized supports. We are happy to be able to step in and fill that role.
Because of HHTH, we can continue to do this, and even expand how we deliver these supports. With 44% of British Columbians just a $200 emergency away from insolvency, it is more important than ever to be able to help out. With this donation, we can ensure that no one is put in an unsafe situation by a cracked tooth or by not having a ride. And no one will have to delay their personal goals and self-care to be able to put food on the table.
Thank you to HHTH Vancouver, your amazing volunteers, and the legendary players, officials, supporters, organizers, and sponsors involved in the tournaments. We are grateful you chose to shine your light on us. We're feeling brighter already.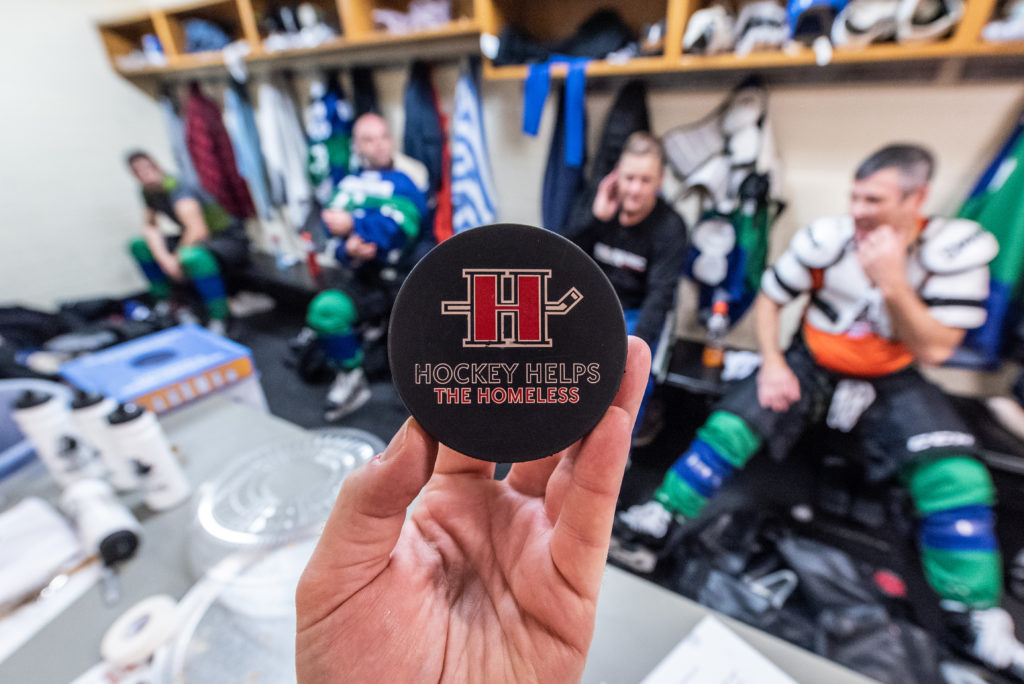 Click here to purchase tickets for the Hockey Helps the Homeless Mega Raffle!