3 Ways We Commit to Making the World a Better Place for 2SLGBTQ+ Youth
We are doing a lot of celebrating and learning with our 2SLGBTQ+ friends. But we want to make sure we are supporting them in meaningful ways every day of the year, not just during Pride Month.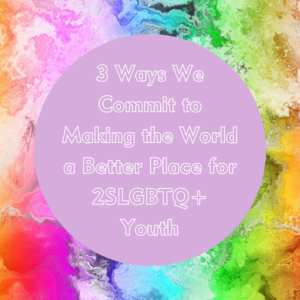 We see a high percentage of 2SLGBTQ+ participants in our programs for vulnerable youth. That is because:
2SLGBTQ+ youth exist and are valid at every level of society; and
2SLGBTQ+ youth are overrepresented amongst youth experiencing homelessness.
2SLGBTQ+ youth make up 20-40% of all youth experiencing homelessness in North America. They also face more stigma, barriers, and instability in accessing care than most.
We want to create a future without youth homelessness, but especially one where all 2SLGBTQ+ youth can find the care and support they need to create a safe, healthy life.
Here is how we commit to doing that:
1. We are identity-affirming
It is not enough that we understand that many genders, sexualities, and identities exist. We also honour that they are all valid for each individual. This includes how their different identities intersect: ethnicity, race, socio-economic status, education, religion, etc. We will trust that every individual we meet is the authority on their own identity, and being educated enough to meet them where they are at.
2. We make health & mental health care accessible and unlimited for the youth in Work 2 Live
Health care and mental health care must be accessible and long-term, but especially for 2SLGBTQ+ youth. We want every person to reach a point of wellbeing, and have the ability to remain there. That means serious investment in creating more and better programs for youth to find this kind of care.
3. We focus on prevention and removing barriers
There is still a lot of work to do to ensure that 2SLGBTQ+ youth aren't streamlined into homelessness or precarious housing. We will fight for the things that can prevent youth homelessness, such as homophobia, poverty, trauma, gender-based violence, and colonization. We will fight to break down barriers that keep these forces in power.
Resources for further learning:
Video: "Impacts of COVID-19 on 2SLGBTQ+ Youth At-Risk of, and Experiencing, Homelessness"
Read the snapshot of the research presented in this video: https://kmb.camh.ca/eenet/resources/research-snapshot-covid-19-impacts-among-2-slgbtq-youth-experiencing-homelessness
Story by a 2SLGBTQ+ youth who experienced homelessness: "IT doesn't get better, but YOU do"
Solutions: Supporting communities to prevent and end homelessness — Lesbian, Gay, Bisexual, Transgender, Transsexual, Queer, Questioning and 2-Spirited (LGBTQ2S)
National Action Plan for LGBTQI2S Rights in Canada
Feature Photo by Mercedes Mehling on Unsplash