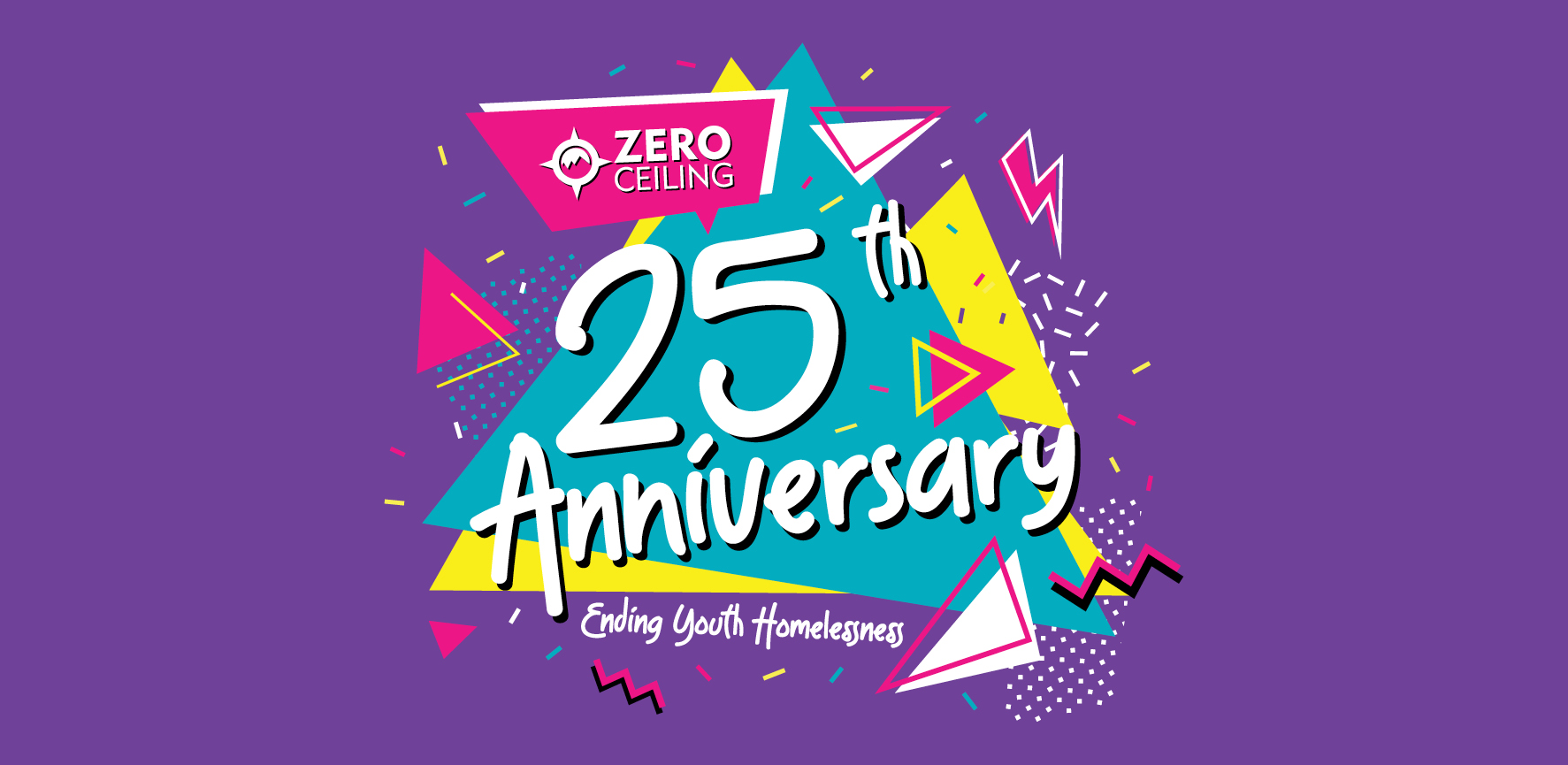 25 YEARS OF UNCONDITIONAL LOVE AND SUPPORT
Make a Gift to Zero Ceiling before December 31
Help us raise $250,000 before the end of the year, in honour of our 25th birthday!
Thanks to our incredibly generous community, we've already raised $150,000 during our 25th Birthday celebrations. Now, we need to raise $100,000 before December 31 to meet our goal.
Make a gift today to help us provide unconditional love and support for young adults facing homelessness for another 25 years.
Born in 1997, this year we're celebrating our 25th birthday!
For the last 25 years, we've been fighting youth homelessness and empowering young adults. And we couldn't have done it without you. Thank you to everyone who has been part of our incredible year of celebrations.
Check out more ways you can get involved below
25TH BIRTHDAY FAMILY DINNER
Presented by the Fairmont Chateau Whistler
Wow! Our 25th Birthday Family Dinner was a true celebration of the Zero Ceiling community. It was wonderful to see so many program graduates and supporters past and present celebrating the last 25 years. Our birthday celebrations also raised an incredible $110,000 to provide a safety net for young people facing homelessness.
Thank you to the Fairmont Chateau Whistler for hosting our birthday celebrations and for the most delicious buffet dinner. And thank you to all our partners and sponsors, including Encore, Sea to Sky Celebrations, DJ Foxy Moron, Dave Petko, Squamish Lil'wat Cultural Centre, Oisin McHugh Photography, Nesters Market, Rocky Mountain Chocolate Company, Fort Berens Estate Winery, and Coast Mountain Brewing.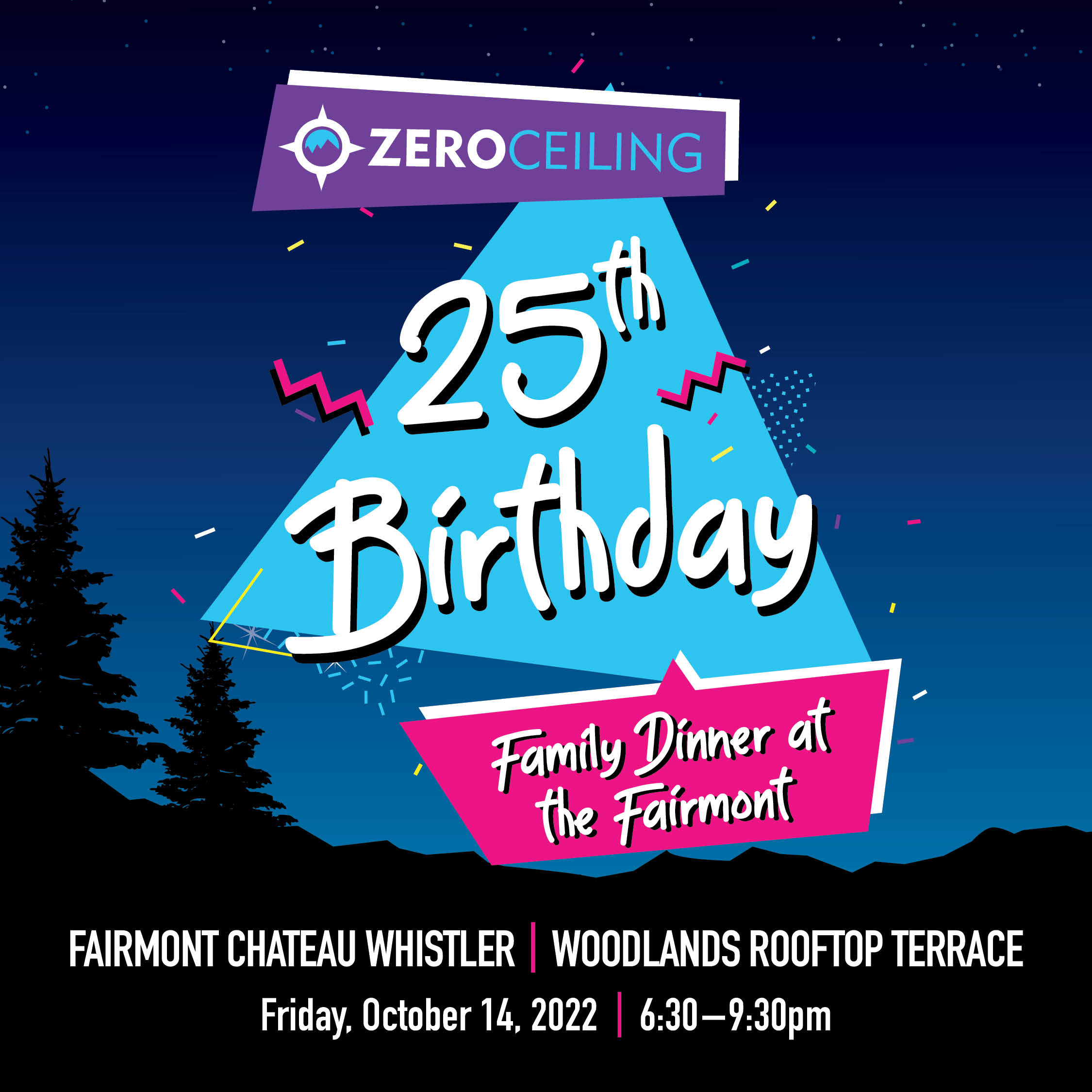 25TH BIRTHDAY SILENT AUCTION
Our 25th Birthday Silent Auction raised $22,442 to fund Zero Ceiling's work to end youth homelessness!
Thank you so much to all the generous businesses who donated prizes, to everyone who bought or bid on an item, and to our volunteers who made the Silent Auction possible. 
If you'd like to get involved in our next Silent Auction, reach out to info@zeroceiling.org.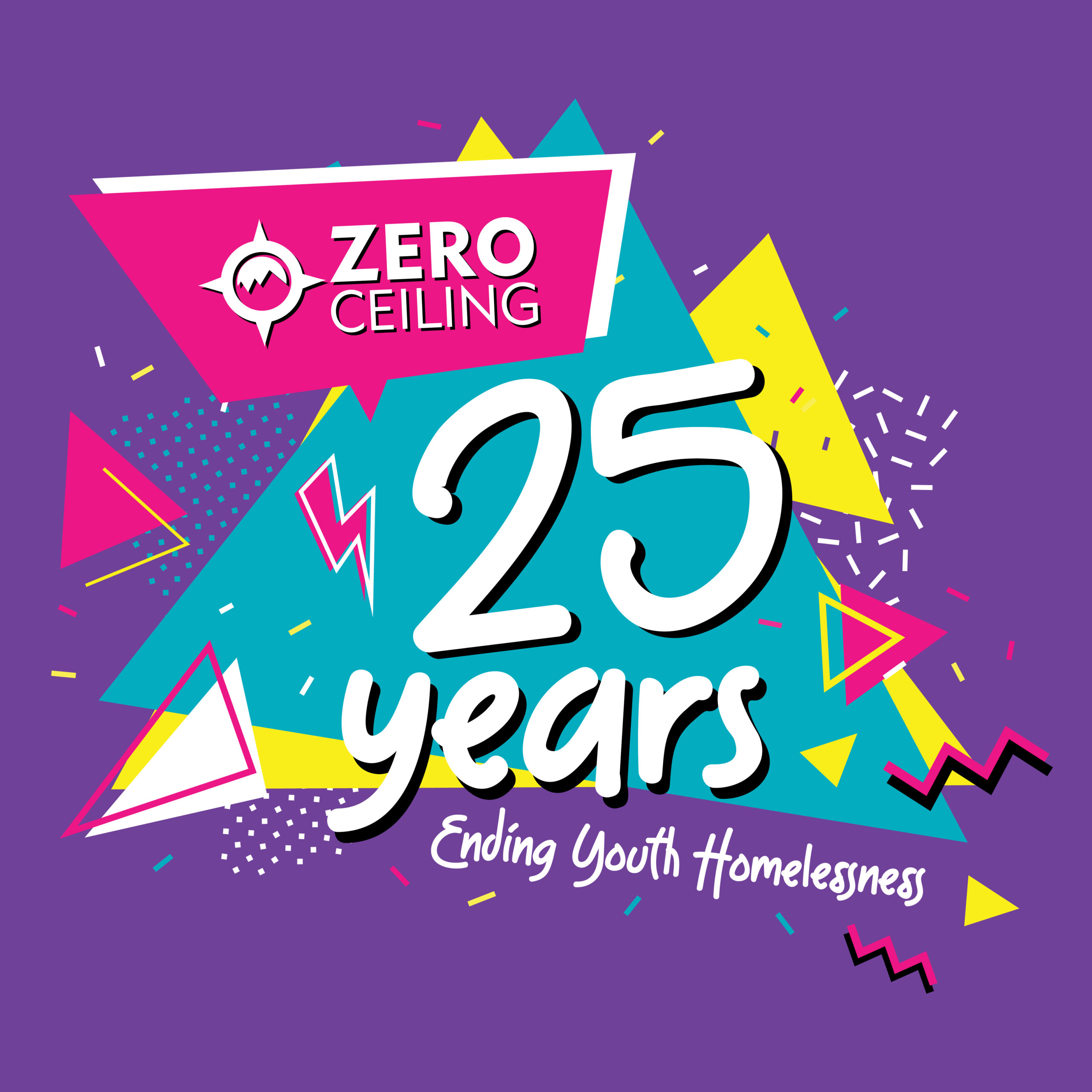 FUNDRAISE FOR ZERO CEILING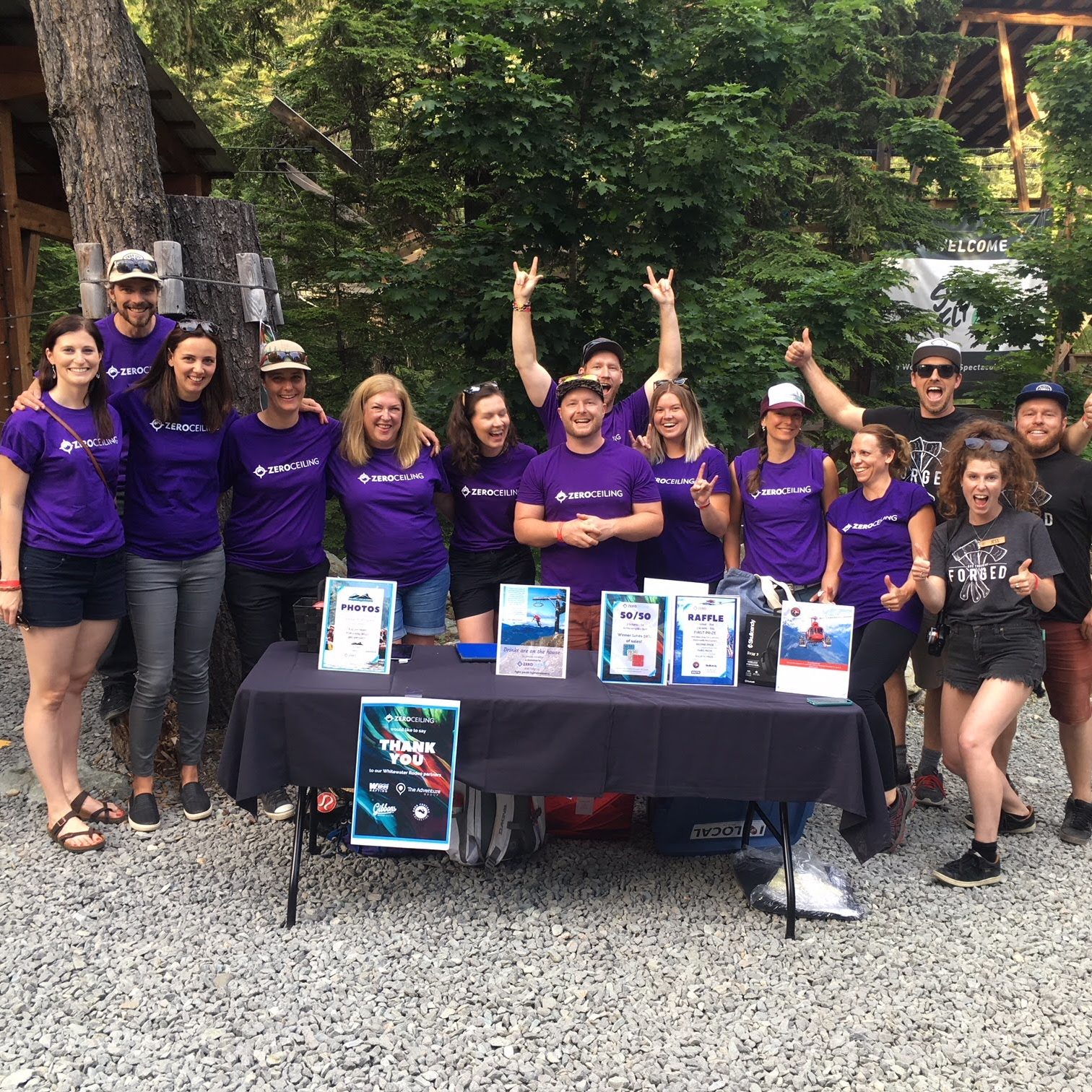 At Zero Ceiling, our community has always been crucial to our success. From the first supporters donating jackets and pants for our day visit program, to local businesses who throw annual fundraisers today: we couldn't do it without you. Whether you're offering your services by donation, throwing a charity trail running race, or asking your family and friends to donate on your birthday, you're helping us build our vision of a brighter future.
If you'd like to fundraise for Zero Ceiling in our 25th anniversary year, we can help! Download our Fundraise for Zero Ceiling kit for guidance, support, and advice on throwing a successful fundraiser. Our Development Team are always happy to help too: simply reach out to Lizi McLoughlin at lizi@zeroceiling.org for support.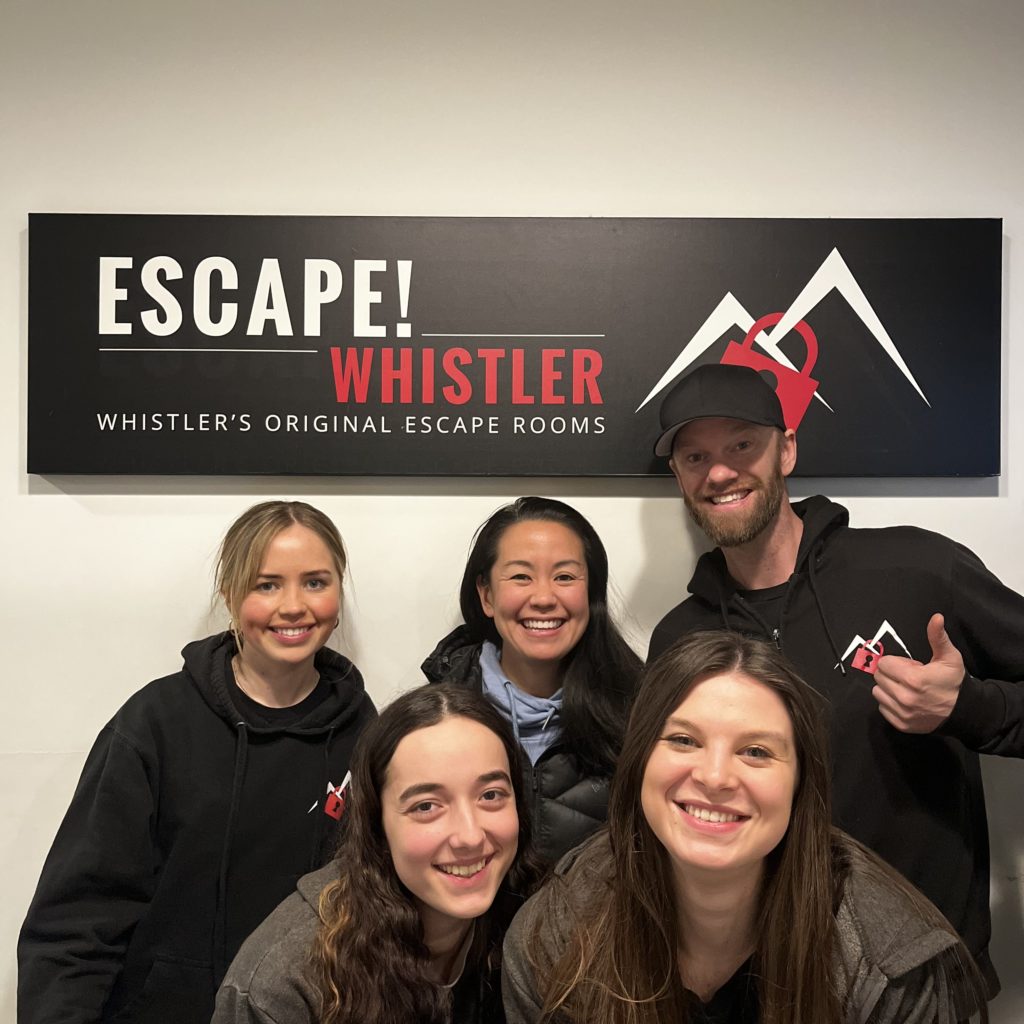 Escape! and Dine Deal
This fall they have two options to fit every budget, all while supporting Zero Ceiling.
DEAL #1 – Escape! and Dine
DEAL #2 – Escape room only
Monday to Thursday this fall, Escape! Whistler has teamed up with our friends at Pangea Pod Hotel to offer a fun and delicious night out!
Included in the low price of just $44+tax, you get…
-one Escape Room adventure at Escape! Whistler
-one flatbread of your choice at The Living Room (Pangea Pod Hotel)
-one beer or highball at The Living Room (Pangea Pod Hotel)
-tip for the staff at The Living Room
Alternatively, if you would like to only play one of our 6 Escape Rooms, the price will be $22 per person, per room.
***To support  Zero Ceiling, a $5 donation will be added to the package price and will be given directly to this amazing organization once the deal is over.*** Book online at
escapewhistler.com
or call us at 604.962.1117. We look forward to seeing you soon!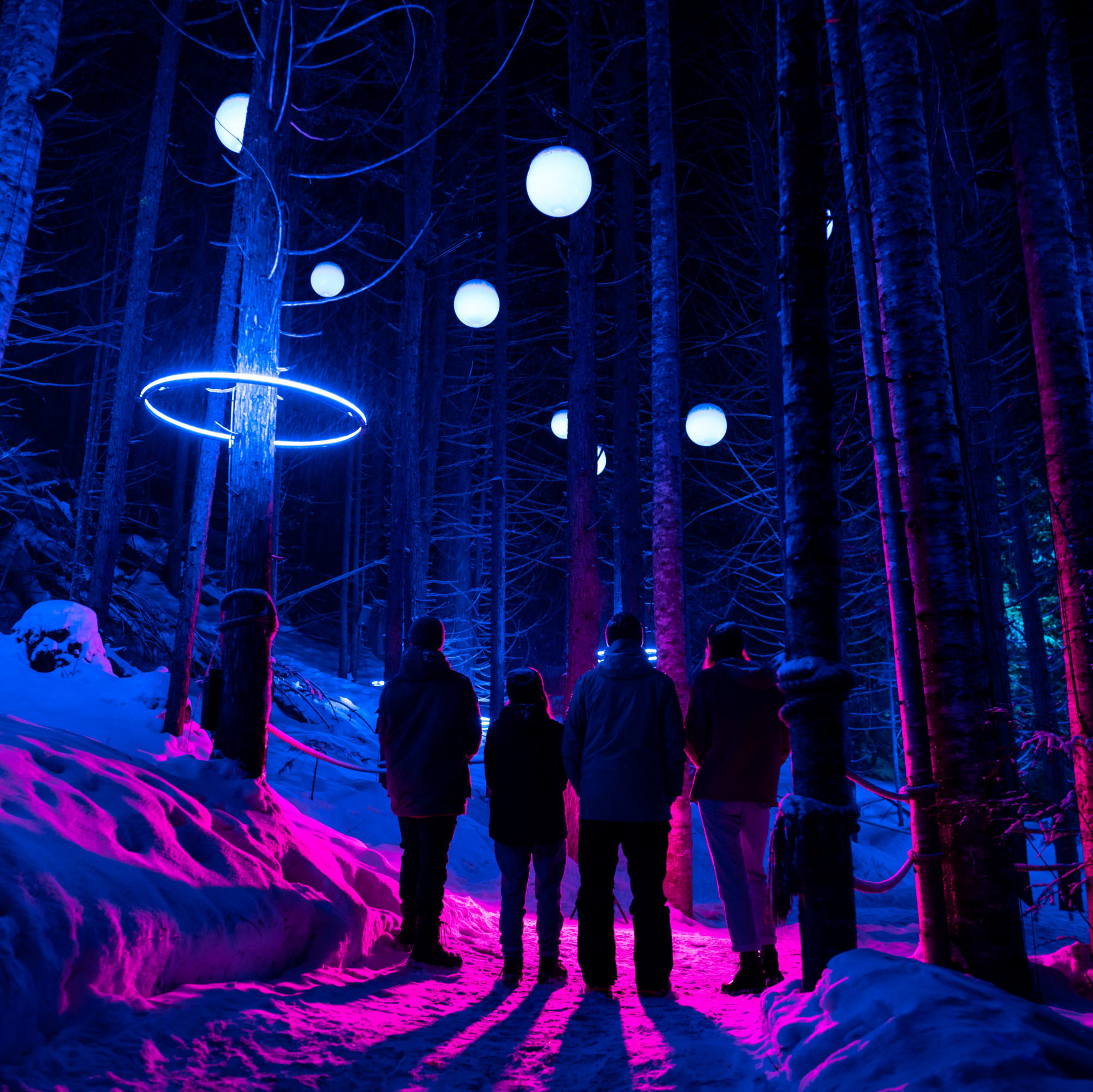 Vallea Lumina By Donation – November 15, 2022
Have you visited the magical Vallea Lumina? There are hidden wonders in the enchanted forests of Cougar Mountain. This awesome fundraiser returns on Tuesday, November 15, 2022. By donation to Zero Ceiling, you'll get the chance to experience the magic of Vallea Lumina for yourself. A limited run of tickets will be available at 10am on November 11, first-come, first-served. Stay tuned for how to sign up!
The Adventure Group have supported Zero Ceiling for many years. Not only do they donate proceeds from their Vallea Lumina fundraiser, but they have also hosted the Whitewater Rodeo on our behalf. And they donate hundreds of ziplining and aerial obstacles adventures every year for young people who have been excluded from the outdoors, through our Adventure Sessions program.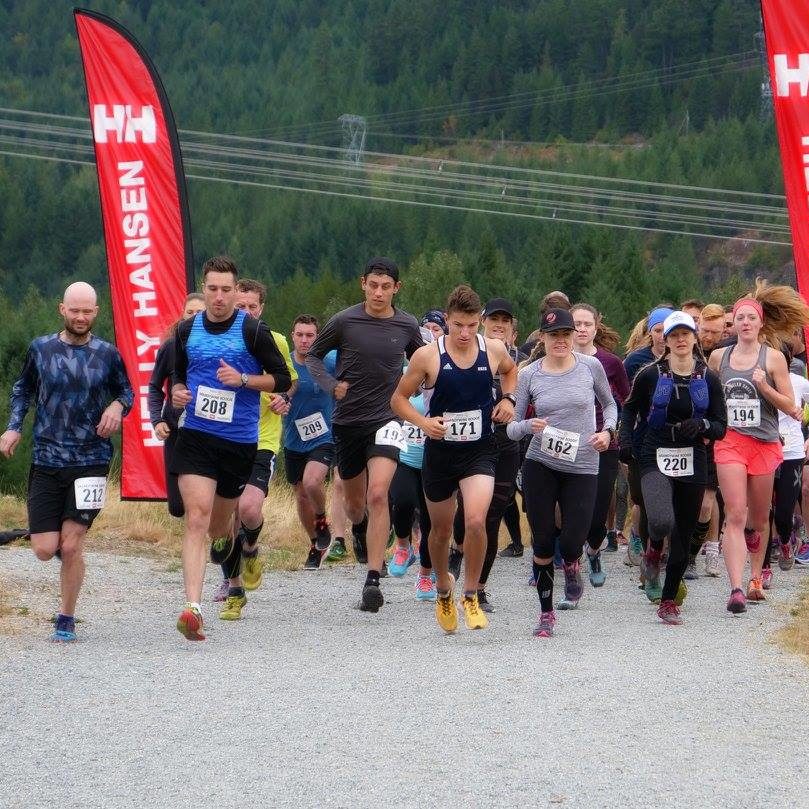 Brandywine Boogie
A beautiful 10km trail run from Cheakamus to Cal Cheak Campground on the Sea To Sky trail. The race is point-to-point, mainly on level gravel tracks with some single track and mainly downhill. You will cross a beautiful bridge, run through diverse landscapes, and generally be blown away by the natural beauty.
The Brandywine Boogie is organized by the members of Rotary Whistler Millennium Club and 100% of profits go directly to charity. When booking, choose which charity you would like your money to go to!
Rotary Club of Whistler Millennium Youth Exchange
Zero Ceiling
Worca
THANK YOU to our co-sponsors Helly Hansen Whistler and Whistler Creek Athletic Club!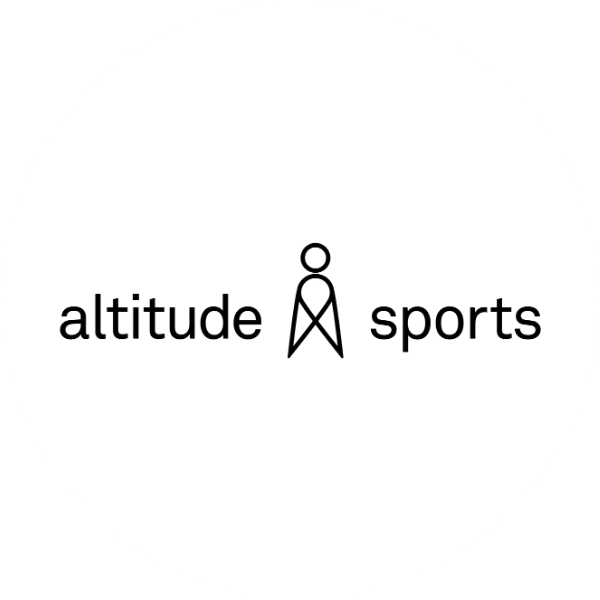 Alti-Action
Grab a great deal on your summer sports kit and support Zero Ceiling along the way! From May 24 – 30, donate $15 to Altitude Sports' Alti-Action campaign and you'll receive a $30 credit to spend in their online store.
Alti-Action supports partner organizations that "protect the environment, help in-need youth, make the outdoors more inclusive, and assist humanitarian missions worldwide". We've been lucky enough to be supported by Alti-Action since 2018 and we're grateful to be part of the action again this year!