Why These 10 People Support Zero Ceiling in Building a Brighter Future
We love our partners, staff, and volunteers so much because we can't do what we do without them. We trust them to share our story and champion our mission, and we thank every person who has given to us this year as we head into our 25th year.
We are still running our end of year campaign to raise $100,000. I know times are tough, but if you can, we hope you will choose to donate to Zero Ceiling. The first $20,000 will be matched by some more extremely generous local supporters, meaning every penny will be doubled.
Here are 10 people's reasons for supporting Zero Ceiling, whether it's through donating time, expertise, gear, or funds:
Nicola Bentley, Board Member and Non-Profit Advocate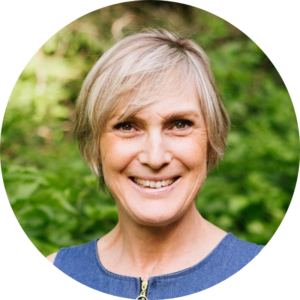 We are incredibly fortunate to have an engaged, supportive, and strong volunteer Board of Directors to help us navigate this tricky world. Nicola Bentley is a member of our Board of Directors, and all-around amazing person. Here is why she chooses to support us with her time and expertise, and why she believes that we can build a better future for our community:
"I am so fortunate to live in Whistler. Being connected to the outdoors and nature is fundamental to why I live in this community.
Nature is energizing and restorative. Being active outdoors is good not just for our physical and mental health – it's good for the spirit.
The work that Zero Ceiling does to provide young people with new opportunities and the supports to explore new paths truly changes lives.
I am proud to work alongside such a dedicated team and other volunteers at Zero Ceiling and with our generous community to create the change I want to see in the world."
Justin, evo Whistler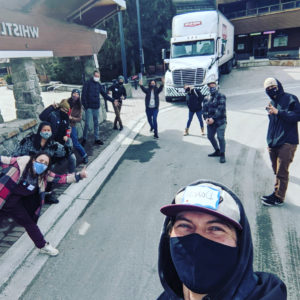 Our super generous friends at @evowhistler evo support us with gear, funding, and prizes throughout the year. And we are hoping that our partnership lasts for many years. The quote above is why they have chosen to support us, and why they trust us to build a brighter future in our community.
"Zero Ceilings has an outstanding commitment to their program in Whistler that help end youth homelessness in BC. evo has been a proud partner with Zero Ceilings for the past three years as *we believe there is no greater investment than to the success of our youth*. With the support of Zero Ceiling's Work 2 Live program, candidates are geared for success in the workplace while being able to enjoy the wonderful lifestyle Whistler has to offer.
Being a grant funder of Zero Ceilings, evo has seen numerous benefits. Zero Ceilings has assisted our staff members in attending Mental Health First Aid training, which allows evo to welcome participants as employees into our team. evo also offers discounted rentals and equipment for Zero Ceilings Adventure Sessions and we have enjoyed many fund-raising events organized by Zero Ceilings. With the values that are shared by Zero Ceilings and evo, we hope to be a partner for many years to come."
Bridgit, Youth Case Worker at Zero Ceiling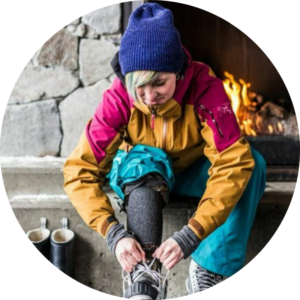 This is what Bridgit, our incredible Youth Case Worker has to tell you about building a brighter future with us:
"In my short experience working as a Youth Case Worker with Zero Ceiling, I have seen first hand how our organization not only works to create a different future for youth facing homelessness by being there, showing up, caring, engaging, teaching and most importantly listening, to not only the youth we service but to the needs of youth in the Sea to Sky corridor/Greater Vancouver.
Zero Ceiling and the people behind the organization want to be the change they want to see in the world. ZC works hard at supporting youth who haven't had the support so many of us take for granted. The programming that they offer give youth an opportunity to see that there is a different way and that they DO MATTER.
ZC questions stats quo, holds broken systems accountable, and speaks for those who's voices are often silenced. By investing in ZC vision for "Building a Brighter Future", you are investing in a new tomorrow for not only marginalized youth but for EVERYONE."
Kyle Horvath – Youth Outreach Counsellor, Sea to Sky Community Services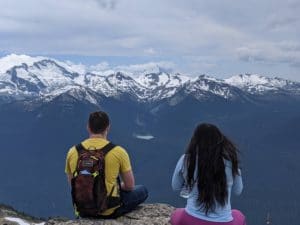 We work with some amazing social service organizations who provide not only support to youth in our Work 2 Live program, but also our team with your incredible strength, wisdom, and courage to advocate for the change we need to see in our community.
"Being part of Zero Ceiling has given the youth we work with experiences they will cherish for a lifetime. It is one thing to live in the Sea to Sky Corridor, but it is another thing to explore what it has to offer.
Zero Ceiling provides more than just access to housing and recreational activities like ziplining, mountain biking, and hiking in Whistler. *The program helps people find a place to call home*. The community I am proud to be a part of, thanks to Zero Ceiling, has an appreciation for where and how we live together in this community."
Emma, Ride Day & Adventure Sessions Volunteer
"Zero Ceiling enriches our community in so many ways. The obvious benefits of helping at-risk youth learn and grow and become valuable members of our community is just the tip of the iceberg. As a volunteer in the Work2Live and Adventure Sessions programs I've seen first-hand how ZC makes Whistler a more diverse, connected and interesting place. I wear my ZC vollie tee with pride!"
Jo Axe, Kathleen Manion, Elizabeth Childs – Royal Roads University Faculty
"It has been amazing to walk alongside Zero Ceiling over the last several years. As researchers, we have had the privilege of hearing the perspectives of the participants and others that support or are supported by the work they do. We have heard many stories of the positive impact the program has had on program participants, graduates, employers, staff, and the community. It has been an honour to work with an organization that has willingly and fully taken on board recommendations emerging from the research and has worked hard to implement change."
Harriet, The Brew Creek Centre
"It's been an absolute pleasure donating vegetables for zero ceilings family dinners. Knowing that the whole team is getting together each week, learning how to cook and experiment with different recipes is very humbling. Having access to organic fresh food is so important to leading a healthy lifestyle. Being able to share food, knowing it is appreciated and is having a positive impact on people in my community is amazing! I'm so proud to be part of your programme. Keep up your incredible work of educating and empowering youths to eat well whilst gaining valuable life skills."
W. & S., Donors
"[O]ur appreciation for the imagination and individuality your programs develop for youth in Whistler is what makes us proud to be supporters. We believe the development of family values and lifestyle in your students and graduates fits our hopes for the future and is very worthy of our financial support."
Russ, Board Member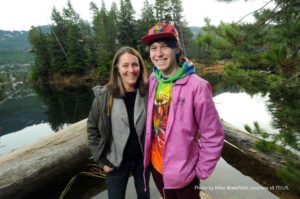 "Zero Ceiling is amazing in my opinion because not only does it support a group of in need individuals, it also supports a true business need for our community. We all know what a challenge staffing can be in a resort town, so to be able to combine heling those in need and creating a valuable staff member is a match made in heaven!"
Karen and Kori, Owners/Operators of Escape! Whistler
"Since opening our doors in 2015, we have been stoked to raise awareness and fundraise for Zero Ceiling! We are proud to be involved with this amazing organization and we want to support their continued pursuit of ending youth homelessness. During the shoulder seasons in spring and fall, Escape! Whistler has run a locals deal which allows us to raise money for their program, as well as offer a heavily discounted locals rate for the escape rooms we've built. It's a win win!"