5 Ways to Gift a Family Dinner Meal Box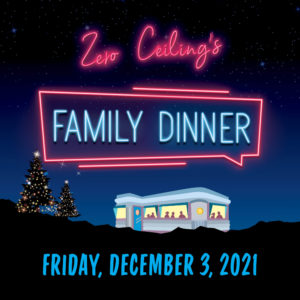 Buy a Family Dinner Meal Box
for someone special this year.
Are you looking for a way to show someone you care this holiday season?
Are you looking for something extra special and out of the "box" to wow your loved ones?
Well, why not buy them a Family Dinner Meal Box? For only $99, they will they receive an incredible 3-course meal to feed up to 2 people, but it will be prepared by some of Whistler's finest chefs AND you will be supporting Zero Ceiling's life-changing programs.
Read more about this fundraiser.
Here are 5 reasons you might want to gift a Family Dinner Meal Box:
To thank your child's teacher for all of their hard work this year. Teachers deserve everything we can give them, and more! Why not get together with a few other parents and buy them a Family Dinner Meal Box?
To support a colleague or friend who is going through a hard time. It's been a tough season for everyone. If you know someone who could use an incredible hot meal with minimal kitchen work, a meal box could be the perfect gift.
To give something other than "stuff". Experiences and memories are often the gifts we cherish most. The Family Dinner Meal box is not only a chance to get together and create some new memories together, but at the end of the day you don't have to declutter a thing!
To stay connected while apart. If you're not in Whistler, say "hi" and "love you" to a loved one from wherever you are by purchasing a meal box for them.
To be the best Secret Santa ever! Gift a Family Dinner Meal Box just because you want to! And the best part? We'll wrap it for you!